On Saturday, I visited the 31st International Model Railroad Exhibition at Cologne, which took place alonside the 8th Cologne's Live-Steam Meeting.
Looking around, I got some very nice impressions. I had three things in mind: Buy a soldering torch and brazing solder, look for a machine vice and get drivers for the Dewey. No luck with the torch, they had nothing small enough for Fn3 scale. Nevertheless, I bought some very good silver brazing solder. And I'm a very happy owner of a Wabeco machine vice with 100mm working width. *G*
Concerning the drivers, I found a very interesting candidate. At the railroad-line forums I got confirmation that I should look for drivers with a diameter of 47 to 49 mm. The Regner Dampftechnik Company sells driver sets for their "Rocket" model with a diameter of 48.5 mm – Yeehaw!
The wheels are completely built from steel, insulated by the painting. Costing not quite 50 Euro per wheelset (including axle), they fit in my budget plans. The red coating won't be a problem, I was being told that they could be delivered in black if mention it in the order. There are only a few minor issues: screw imitations, a thicker spoke for the crank pin and no counter-weight and the number of spokes: 12 instead of the Dewey's 11. I'm not quite sure yet whether I want to accept that or look for other candidates. The Rocket's trailing wheelset would have the right diameter, too, but it has spoked wheels and I need disk wheels.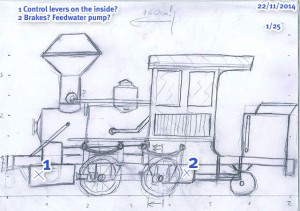 Traveling to the exhibition, I took a closer look at the prototype's photo and tried a first sketch. My goal with this sketch was to get a feeling for the dimension, so I could produce some accurate diagrams later on. Of course there are plenty of mistakes, for example: the whole boiler and frame has to move forward half a metre, so the second driver wheelset's axle moves to the forward end of the cab. I'm going to take that into account on the next drawing. As soon as I've got version which convinces both me and the folks at the railroad-line forums, I'll go ahead with the diagrams. In the meantime I feel like I've taken a nice step toward a finished model.