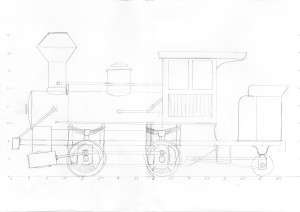 For this second sketch, I followed the advice from Bernd, a fellow member at the railroad-line.com forums and drew from the right to the left, starting with the rear wheel. That felt STRANGE. This time I used a straight 1/20.32 scale ruler and a bigger sheet of paper.
As you can see there's progress – I'm even quite sure it's headed in the right direction. The first sketch was quite a bit clinched on the length, this one does a better job to catch the proportions, I think. Total length is now 24′ 6" (7.5 m) while the height hovers around 13′ 2" (4 m). I shortened the cylinders slightly, too.
The biggest change is in the position of the rear driver and the trailing wheel.