For the next year I've set an ambitious goal: I'd like to attempt my very first scratch-build of a steam locomotive in Fn3 (1/20.32, 3-ft-narrow gauge).
My model of choice is an industrial loco of the late 19th century: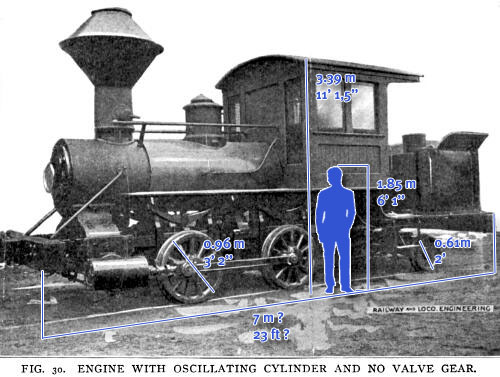 (Source: Sinclair, Angus: Development of the locomotive engine, New York 1907, p.511)

As you can see, a small 0-4-2t with some very interesting features. The cylinders are oscillating, something that is more common with steam boats and stationary engines. I chose this model because
a) it has a very simple running gear, no valve gear
b) the chassis is quite simplistic
c) I adore the overall cute look!
All in all I think that this model gives me both an technically interesting and at the same time hopefully simple-to-create goal to achieve.
By the way: I'm pretty certain that the pictured loco is standard gauge, but Dewey Bros. built 3ft. narrow gauge as well. So I believe I'm justified in using this specific prototype for my model. I've already done some research on the loco and the company which built it, however information is scarce on both of them. I'll show what I've got in an upcoming post.
The next step will be a visit to the live-steam fairtrade "Modellbahn Köln" in Cologne where I want to look for wheels for the loco because I definitely won't be able to build those myself.