A few weeks ago, I re-read my construction diary over at the railroad-line.com forums. Doing that I noticed that I failed to implement all of Thayer's suggestions into my drawings. Most importantly the stack's dimensions were too big while the boiler was too small in diametre.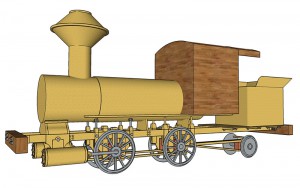 In order to finally implement these adjustments and even more importantly in order to get a better feel for the loco as a whole, I set out to complete the 3D drawing as soon as possible. To that end I'm using a lot of placeholders. In this version, boiler, cab and tender are 100% dummies. Nevertheless one can already recognize the overall dimensions quite easily.
I'm hoping to get a lot of feedback, which in turn will help me to replace those dummies one after another by actual construction parts.
In the meantime I also continued work on the chassis. The drivers look good right now, therefor I'm focusing on the trailing wheel.