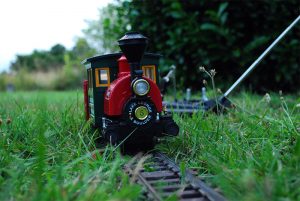 Today was a very special day for me. After years of planning, after months of constructing my porter tender, after weeks of waiting for vacation – today, I finally got to lay my own rails out in my own garden and I let my own loco run a few rounds.
The tracks are a gift from my father, who moved our garden railway to France in 2009 and rebuilt it there. Since he's been changing to LGB's R3 switches, I've got a total of 10 R1 switches, some curves in R1 and R2 and some meters of flex track.
The materiel is really old, some of it more than 30 years, however it's still in reasonably good shape, except from some of the sleepers. Some tracks had to be bend back into something resembling straight pieces, there are not enough rail joiners, the straight pieces were of unequal length so the oval is somewhat bent – who cares!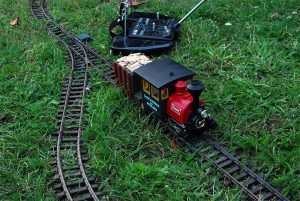 The loco is purring like a kitten, the tender is running smoothly due to its frame made of brass and the resulting low center of gravity. The driveability is as good as one could hope for from a Toy Train loco and the battery powered R/C control allows for a smooth ride – as long as the radio signal is strong enough. Some range testing with my 40MHz transmitter revealed some trouble on the short distance. Everything ran smoothly between 2 and 10 meters, and above 12 meters the signal broke up. Operating the transmitter closer than 2 meters to the loco was possible by pushing together the antenna, but then I was reduced to about 1 meter of range. Hence: Running on the main track with fully extended antenna, cutting with the retracted antenna.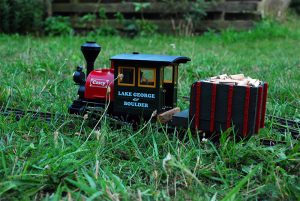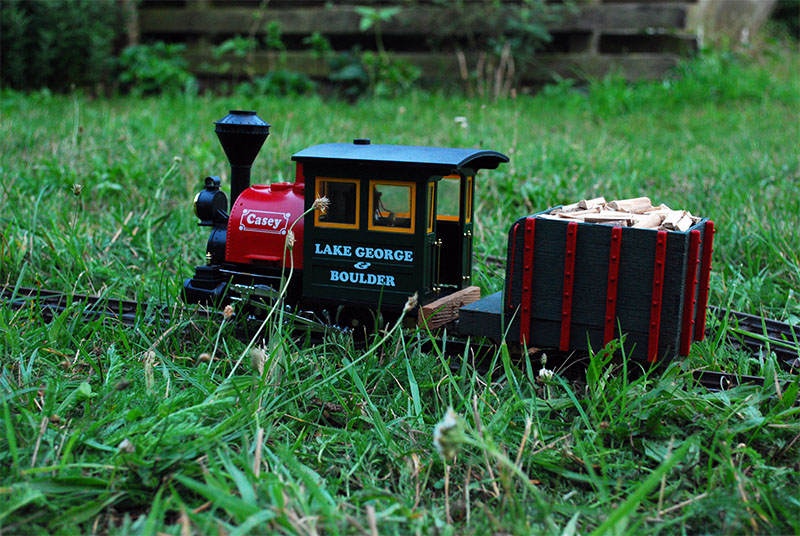 This won't be a problem any more once I upgrade to 2.4GHz. Right now I'm confined to operate the loco with continuous line of sight. However my plans are already made: This christmas, I'm going to get me an R/C kit from Rik Bennetts RC Trains which are based on Deltang receivers. This system sports "cruise control", meaning the loco keeps to the last known settings (speed, direction,  etc.) whenever the signal is lost, until the connection is regained. The advantages are quite clear: One can run trains without permanently monitoring them, and you don't have to ensure perfect signal quality throught the whole track. Tunnels would be such an example.
At any rate I reached an important milestone: My scratch-built tender facilitates battery powered operations and it runs smoothly – and I can finally, finally run trains in my garden again.