As I wrote earlier, I'm going to switch my father's Mogul loco to battery power. However, I want to gain some experience first by modernizing my porter loco.
At the finish line the porter as well as the mogul locos will be equipped with DelTang receivers and Li-Ion powerpacks.
Caution: working with Li-Ion batteries is not without danger! If you don't know what you are doing, get professional advice or buy powerpacks off the shelf. Mistreating Li-Ion Accus during construction or use may lead to serious hazard of injury or fire. Imitate at your own risk!
I came to the conclusion, that it's real fun to control the porter via 2.4Ghz R/C. However, I wasn't satisfied:
The electronic speed controller was overloaded at full throttle and had a tendency to cut power to the motor
The receiver has got no cruise control, so you have to ensure a permanent link between controller and receiver
Using two Nikon accu packs meant to open the tender every time I wanted to reload the power packs
Each loco requires another controller, a fast and convenient hand-over in a multi-person-session is not feasible
As a first step I'd like to replace the two Nikon accu packs with a designated powerpack made from Li-Ion cells, complete with a protection circuit board. The necessary parts were purchased at different online shops. First, the cells were connected with each other. Then the protection circuit board was connected to the first cell's ground, the last cell's voltage and the connections in between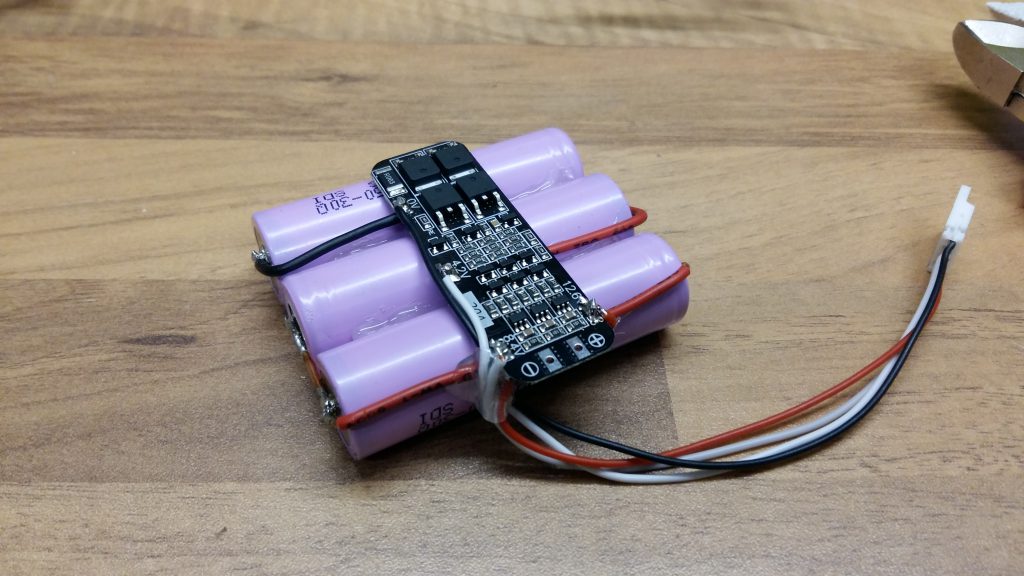 Finally, the balancer cable was soldered in parallel to the board's connectors in order to allow balanced charging. The cable's socket will be integrated into the tender's wall. That way I will be able to charge from the outside without having to open the tender
But before that, some extensive tests of the power pack are in order. I've got no desire whatsoever to lose the tender due to a battery fire.