Last Saturday, an old friend of mine and I held a small operation session at his place. The weather was fabulous, we had high temperatures for february, around 14°C and lots of sunshine.
It's been a huge success: multiple trains running simultaneously, shunting, test drives, lots of talk on lots of topics. But most important: a train-load of fun!
Due to rather long travel, we startet just shy of noon. First order of the day was to clean the tracks. Especially the pointwork had to be cleared from dirt and obstacles to ensure their functionality. Here the battery-powered vehicles really shine: One only has to focus on mechanical issues. The track cleansing was ceremoniously concluded with a first test drive.
Once the line was cleared for operations, the remaining rolling stock was brought into the garden. Of course, I only could bring my porter and the bulkhead; my friend added a steam loco and several waggons and coaches. Meanwhile, the line signalling was prepared by me, by installing tokens: colour-coded wooden sticks which are assigned to a section of the line. The principle is easy: Only he who carries the stick may enter the line-section. The stick is handed over to the next conductor, or placed alongside the section.
This method is very simple and easy to arrange. We will continue to use it in the future. We concluded that two sticks were missing. A short section between two stations had to be travelled on slow speed; and a spontaneous installed spur added up to quite a huge section which ensued some waiting time for other trains. Next time, I'm going to bring along the two lacking sticks. We will also need some colour-coded poles matching the sticks' colour-codes to identify the line sections and to hang the tokens when not needed.
Furthermore we tested the operational value of the shunting dice. I found mixed results. The dice works just fine. The symbols are easily readable, it lies comfortably in one's hand and there's no mistake which surface is the upper one. However, one really has to memorize the symbols' meanings which diminishes the operational value.
Children would surely need guidance to use it. Paul D. Race wrote in his essay on planning your garden railroad for operations, children are best introduced to the hobby by letting them run passenger traings: they may stop at each station and don't have to trouble themselves with shunting. One can raise the bars by agreeing on stop signals for the passenger trains. The shunting dice would be a possible continuance of such an approach, but as the first step it wouldn't fly.
Last, but not least I had the opportunity to test a scratch-built bogie. During the last weeks, it was produced in a hurry and I forgot to take pictures. I wasn't too sure whether the whole contraption would actually work, either. Now I know, I will build some more and I will report on those. Suffice to say for the moment, I'm more than happy.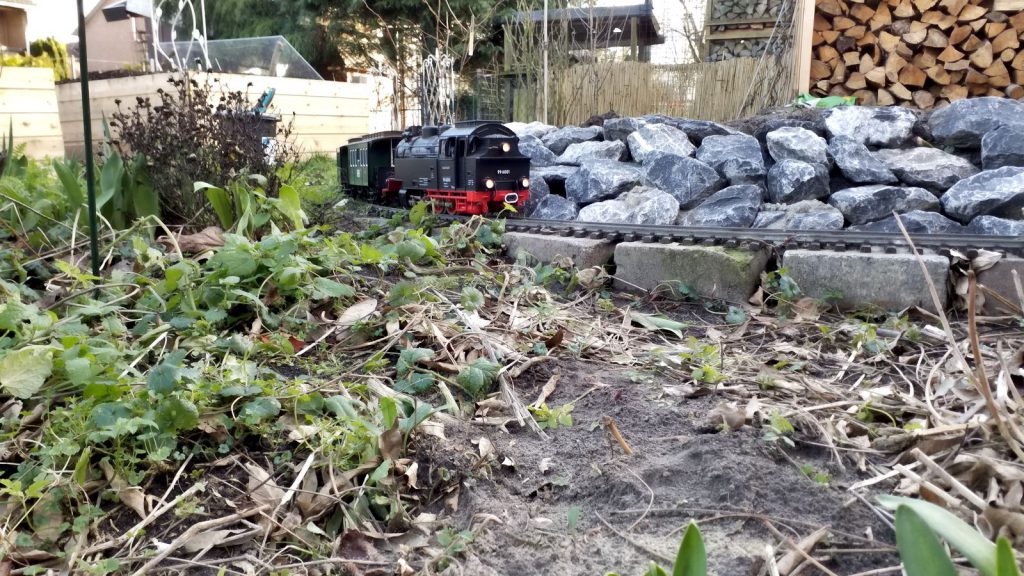 We could continue operations until dusk. We stoutly agreed to hold an operation session per season for the remainder of this year. Of course, there will be reports on those, too.